The most renowned trek in the world that attracts hikers from every part of the world. With its eye-catching scenery, it has some of the highest mountains peaks in the world. Everest Base Camp is either of two base camps on opposite sides of Mount Everest South Base Camp is in Nepal at an altitude of 5,364 meters (17,598 ft) and North Base Camp is in Tibet at 5,150 meters (16,900 ft). Today the Everest base camp trek has become a goal for people from all around the world who want to leave their mark on the world. The name "Everest" is enough to tremble the hikers in anticipation of challenges and adventures associated with it. It is one of the most popular travel destinations in Nepal and you can't imagine the level of excitement in tourists to complete this trek to the Everest summit. However, not everyone is capable of completing the whole trek. It is comprehensible. The Everest base camp trek requires the hikers to be at the top of their skills. This is why Mount Everest has fascinated many fearless men and women over the decades who wish to break the limitations of being human.
All around the year, people visit Nepal in large numbers to explore the snow-capped hills and multilayered culture of Nepal. Besides, stunning landscape, hikers find it absolutely delightful to stroll around Khumjung village, seeing the subaltern culture of Sherpa population and holy monasteries in Tengboche. The expedition begins from Kathmandu following a day, exploring the treasures in Kathmandu. The city is exuberant with rushing tourists and locals. Everest Base Camp Trek starts with the flight to the airplane terminal in Lukla, which is situated on the edge of the cliff at 2900 m. During the trek, we will pass through the scenic areas of Nepal and discover the culture of Nepal, take blessings from Buddhist monasteries and eat the local food at the villages Set out on challenging hikes to Kala Pattar (18,192'), Nangkartshang Peak (16,672'). and Everest Base Camp (17,590'). Local monasteries and virgin peak view that will enchant you. Explore Himalaya.org guide and Sherpa will take you to Everest Classic Base Camp trek which is one among the most famous destinations for the mountaineers and adventure lovers. Make a collection of magnificent experience, exploring Mt. Everest, Amadablam, Lhotse, Thamserku, Khumbutse with us. Our expert staff will provide you insider perspectives and supportive tips throughout the journey. Everest Base Camp is a suitable trek for you if you want to do something legendary. Trekking to an altitude of 17,600 ft. passing through the pastoral villages, grassy paths, giant rocks etc. You enter into the most acclaimed terrains on which the great mountaineers have trodden. Tenzing Norgay and Sir Edmund Hillary climbed 29,035 ft of Mount Everest on 29th May 1953 becoming the first people to reach the apex of Mount Everest. Ever since there has been a hoard of hikers who want to complete this trek to complete a challenge of a lifetime. Nothing beats the enthusiasm of travelers while ascending the Everest and watching it very close. It is exhilarating, to say the least. The best time to go to the Everest base camp trek is between March to mid May and between September to November. However, you can come here all around the year as daredevils like to trek in all seasons.
Nepal observes a fall in tourist turnout in winters because it gets difficult for hikers to trek in heavy snowfall. In such conditions, it is not possible to go to higher altitudes. During this time of the year,the lodges may even be shut due to the harsh weather conditions and you might have a hard time in finding a place to rest and spend the night. Therefore it becomes a mandatory to carry your tents along. During the summers, the season is wet and the peaks are lost in the clouds. Therefore April and May might just prove a good time to go around this place.
---
Per Person Cost: INR 64,900.00 + GST 5% as per updated government regulations
US$1,480.00 All Inclusive (for Foreign National)
---
Trip Type: Trekking Adventures
Duration: 15 Days | Kathmandu to Kathmandu
Highest Altitude: 18,192 ft (Kala Pattar).
Best Trekking season: March- May & September- November
Accommodation: 3-star hotels in Kathmandu and teahouses during the trek.
Group size: 5-15 people
INCLUDED

2 Nights accommodation at 3 star Hotel in Kathmandu with breakfast
Airport transfers and escort
All meals during trek
Morning Tea
Breakfast
Lunch
Hot soup or snacks in evening
Dinner
Camping/lodge accommodation during trek
English/Hindi speaking guide
Porters
Kathmandu/Lukla/Kathmandu airfare
All guided sightseeing tour in Kathmandu and entry fees
Permits and Fees
Trekking equipment: sleeping Bag Camping tent matricess

NOT INCLUDED

Nepal visa - Multiple Entry 30 days - USD 40.
International flight Lunch & dinner in Kathmandu.
Extra baggage charges (All together only 15 kg is allow by domestic airline).
Personal gears & clothing (available on hire).
Any expenses incurred in emergency evacuation/road block due to any reason.
Table drinks.
Snacks while walking.
Travel Insurance.
NOTE:
Region
Positioned between the might Himalaya and aesthetic Indian plains, Nepal is a land of Sadhus, Sherpas, yaks, and home to some of the most beautiful mountain ranges. Nepal's point of interests includes Kathmandu valley, Pashupatinath Temple, Boudhanath temple. Owing to its rich cultural history and bond with India. Nepal has significant temples and monasteries of Hindus and Buddhists which are visited by devotees from around the world. Nepal is also well known for its rich biodiversity. Chitwan National Park in Nepal is a highly visited spot by tourists, photographers, ecologists. It provides a great window into the life of Nepal's natural habitat. Nepal has 10 UNESCO world heritage sites. The Everest base camp trek is the crown jewel of Nepal that appeals to the hikers from around the globe.
How to Reach Nepal for Everest base camp Trek:
By Air: - Nepal is well connected to airways. Kathmandu Tribhuvan Airport is the international airport in Kathmandu. The airport has flights operating from various destinations all across the globe. Nepal also has smaller runways for smaller aircrafts. There are various airlines functional from India. Most major air carriers like IndiGo Airlines, Indian Airlines, Jet Airways operate daily flights to Kathmandu. Reaching Kathmandu by flight from New Delhi is the most convenient way. It takes around 1 hour and 40 minutes to reach Kathmandu from New Delhi.
By train: - If you are looking to travel from railways then you can board a train from Delhi to Gorakhpur or you can start your journey at Jaynagar in Bihar which starts at the Janakpur Dham in Nepal. You can also look for Vaishali Express which departs from Delhi at around 19:45 and arrives at Gorakhpur Junction at 09:10 am next morning, or there's another train also from New Delhi at 17:20 arriving Gorakhpur at 06:35 am next morning. The fare is around Rs. 2440 (£35 or $54) in AC tier-1, Rs. 1240 (£18 or $27) in AC tier-2, Rs. 785 (£12 or $18) in AC tier-3 or Rs.315 in Sleeper Class - check current timings and fares of the train at Indian Railways.Take a local bus or jeep from Gorakhpur to the Nepalese frontier at Sunauli (Indian side) and Bhairawa (Nepalese side, often also called Sunauli). The journey can take about 3 hours to reach Bhairawa bus station and can cost up to Rs 55 (£1 or $2). Walk across the border, it's then a few minutes walk to the Bhairawa bus station. Then take a bus or jeep for Kathmandu. Buses take 9 to 12 hours and cost about 120 Nepalese Rupees or 130 Indian Rupees (£1 or $2). There are many buses daily, either daytime buses leaving regularly until about 11:00 or overnight buses leaving regularly from about 16:00 until 19:00. Indian rupees may be accepted here in Bhairawa, but not always further into Nepal.
By Road: - Border between India and Nepal, is an amazing way to reach Nepal by road. Entering Point in Nepal is Kakkarbhitta (West Bengal), Biratnagar (Bihar), Birgunj (Bihar), Sunauli, Nepalgunj, Dhanagadi and Mahendranagar (all across the border from Uttar Pradesh).You can drive in by a cab or a car. There are also bus services from Delhi are available that enter Nepal at Biratnagar, the second largest city in Nepal after Kathmandu. Being good neighbours, Indians do not need a visa to enter into Nepal. Visitors from other nationalities require a Visa. None of the entry points has a provision for Visa. So a roadtrip to Nepal is an exciting way to get there.
---
When to do Everest base camp trek?
There are two major trekking seasons in Nepal. These are from February to May and then September to October.
Peak seasons
1) February to May: February to May is a popular time for this trek because of the clear, bright days that appear around this period. you can still face the occasional rains, but most of the days will be fairly sunny and dry. As this is peak season for tourism in Nepal, it is the most crowded time of the year. Most numbers of Everest summit attempts occur during the period of February to May. If you are a mountaineering person then this is a great time to actually meet new people attempting the summit and to feel the energy surrounding the climbing expeditions.
2) September to October: September to October is another most popular time of the year for hikers owing to its most stable and clear weather. During this period most treks offer stunning views which, on a sunny day, are simply spectacular. Although not the warmest time of the year, the day provides a pleasant temperature for trekking and the nights do not get super cold like winter. You will encounter a fair amount of traffic as the popular trek routes get very busy around this time, Although the weather is usually moderate but there's always a possibility of storm. As a hiker, you should be prepared to face this climatic situations.
Off-peak seasons
1) November to January: November to January is the coldest season in Nepal. However, lots of trek routes are still operational. The weather is chilly and it is fairly stable and dry. If you are planning to travel in Everest Base Camp trek in this period then you will face temperatures of around -20 to -30 degrees Celsius. Embrace yourself with the best trekking gear and accessories to tackle the snow. If you stay down in the valley then the temperatures will remain fairly moderate. please remember that many of the popular trek routes get closed during this period and the days become short.
2) June - August: Everest comes in the wet regions unlike Annapurna and June to August is the wettest period in the Himalayas influenced by the Indian Monsoon which brings frequent rainfall and cloudy days. You might find trekkers during this time but clouds and rain generally obscure the peaks. The tea houses and trails begin to empty out in June and only the hikers looking to trek high are seen during these months. Not many foreign trekkers hike during the monsoon period as mud, rain, leeches and, most importantly, lack of mountain views, put most hikers off. Although not the best time to trek the Everest but this can be the best period for trekking the Annapurna where it remains slightly drier during this period.
Our advice: If you have not any problem with crowds then the best time to trek in Nepal is in the peak seasons as they are warmer and provide the best opportunity for clear views. but If you don't like the thought of the crowds then we would suggest taking another period of the year as it is possible to trek all year-round in Nepal.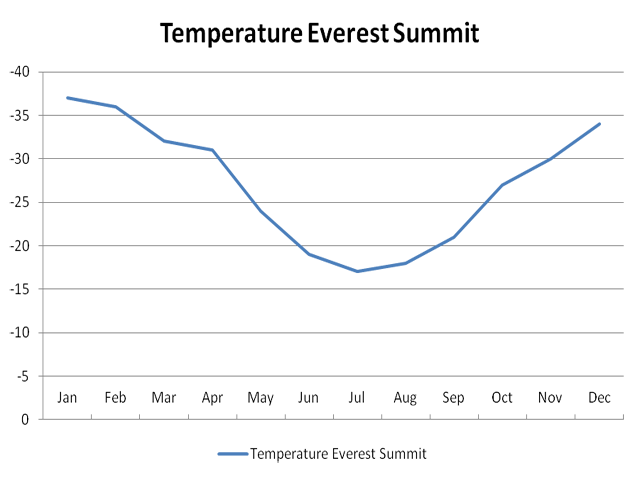 How difficult is Everest Base Camp Trek?
Yes, Everest base camp trek is a challenging trek. Some of our experts who have more than 25 years of experience in Himalaya recognize this journey as more difficult than others. It is an adventure of a lifetime and you know, it is achievable for most people but it is not a tourist trek and needs to be respected. You have to prepare to get trained before you hit the trek route. If you do so your Journey will be more enjoyable. There are few key elements to a safe and successful trek and If you follow them (trekking through the Khumbu valley, hiking at low-level oxygen environments) then you will make a secure, successful and enjoyable trek. If you are a novice trekker then First you have to understand that trekking in plane areas are totally different from trekking in hilly Area, especially towards Everest base camp.
When you arrive at Lukla airport at 2,850m/ 9,383 ft. You just enter the region of high altitude with 20% less oxygen than sea level running through your blood stream and muscles. You have to hike for 9/10 days to reach Everest base camp at 5,364m/ 17,598 ft and climb Kala Pattar at 5,545m/ 18,192 ft. At Everest base camp there is 50% less oxygen in the air that you are breathing. Then you have to return back to Lukla airport over 3 days and walk long distances. You have to walk almost 80 miles return trip from Lukla to Everest. If you want your muscles and body to cover this distance in this environment you need to train and condition your muscles prior to arriving in the Himalaya's. After booking this trek with Explore Himalaya we will send you the training schedule for Everest base camp trek so that when you are here you enjoy the journey.
---
How to Book for Everest base camp trek?
Step 1 Check availability of seats in our group.
Step 2 Please fill Booking Form and email us at one scan copy of the duly signed form with scan copy (coloured copy) of your passport on info@explorehimalaya.org (Please note the passport must be valid for minimum 6 months from the date of yatra) For Indian Traveler no passport is required to travel in Nepal, However a valid photo (voter id ) id still be needed .
Step 3 Send advance payments to our office. you can pay Booking amount on our website via payment Gateway ( 2 % extra charges will be applied ). you can also transfer the amount via net banking or NEFT Transfer or Pay Pal.
---
Payments:
Rs. 35,000/- (For Indian National) OR USD 600/- ( for foreign National/NRI ) per person advance at the time of submitting documents for booking. Balance payments 30 days prior to tour departure date, 100% of the total cost should reach Explore Himalaya Adventure Sports Association account by Wire/NEFT transfer or cheque deposit along with passport/photo id of the Individual. This payment includes non-refundable INR 7,000 (for Indian nationals) or USD 200 (for foreign nationals).
Please note Govt charges service tax on each payment which may differ based on the nature of service rendered by the traveler. Please check list of currently applicable service tax mentioned below. Domestic flight tickets 0.70% International flight tickets 1.40% Train bookings in India 14.0% Hotel Bookings (without meal) 1.40% Hotel Booking (with meal/s) 3.50% Transport booking 5.60% Package bookings 4.50% It is not only the liability of the Company to charge Govt Service Tax (GST) to the customer but it is also the responsibility of the customer to pay the same without fail. All our quotes and offers are 'exclusive' of GST and shall be charged addition to the travel booking charges.
Important Remarks: While you request booking with us you confirm having read and accepted the Terms of Bookings with us as mentioned on our website and on 'Booking Form'.
---
Passport & Visa:
Indian Passport Holders: Indian nationals do not require a passport or visa in Nepal. A valid identity card (voter ID card) is acceptable by Nepal Immigration to give permission to Indian nationals for traveling in Nepal which makes it one of the most convenient and flexible countries for Indians travel in.
Foreign Nationals and NRIs: A valid passport and Visa is mandatory for all foreign nationals and NRIs (Non-resident Indians) to enter Nepal. Nepal immigration offers Visa on Arrival facility at Kathmandu airport against all valid documents and visa fee.
---
Travel Insurance:
It is advisable to carry a valid Travel Insurance covering medical expenses, emergency evacuation expenses, additional stay and food expenses etc for traveling to Annapurna region. Our trips do not include the price of Travel Insurance and it is the sole responsibility of the traveler to ensure that he/she is adequately insured for the full duration of the trip.
---
What to carry for Everest base camp Trek?
| | |
| --- | --- |
| Waterproof hiking shoes | 1 pair |
| Changing shoes/sandal | 1 pair |
| Socks | 7 pair |
| Warm trousers | 3 pcs |
| warm pants | 3 pair |
| T-shirts | 6 pcs |
| Head Torch | 1 Pc |
| Long underwear | 3 pair |
| Sweater | 1 Pc |
| Warm Fleece jacket | 1 Pc |
| Hat | 1 Pc |
| Warm hat/Balaclava | 1 Pc |
| Waterproof pant & Jacket | 1 Pair |
| Good gloves | 1 Pair |
| Sleeping bag | 1 Pc |
| Personal Backpack | 1 Pc |
| Sunglass | 1 Pc |
| Sun cream | 1 Pc |
| Headlamp /torch | 1 Pc |
| Water bottle | 1 Pc |
| Trekking poles | 1 Pc |
| Medical Kit, Vaseline | |
| Toiletries, Toothpaste, Brush | |
| Tongue cleaner, Cold Cream/Moisturiser | |
| Deodorant, Paper Soap, Towel, camera | |
INCLUDED

2 Nights accommodation at 3 star Hotel in Kathmandu with breakfast
Airport transfers and escort
All meals during trek
Morning Tea
Breakfast
Lunch
Hot soup or snacks in evening
Dinner
Camping/lodge accommodation during trek
English/Hindi speaking guide
Porters
Kathmandu/Lukla/Kathmandu airfare
All guided sightseeing tour in Kathmandu and entry fees
Permits and Fees
Trekking equipment: sleeping Bag Camping tent matricess
NOT INCLUDED

Nepal visa - Multiple Entry 30 days - USD 40.
International flight Lunch & dinner in Kathmandu.
Extra baggage charges (All together only 15 kg is allow by domestic airline).
Personal gears & clothing (available on hire).
Any expenses incurred in emergency evacuation/road block due to any reason.
Table drinks.
Snacks while walking.
Travel Insurance.
Click on image for zoom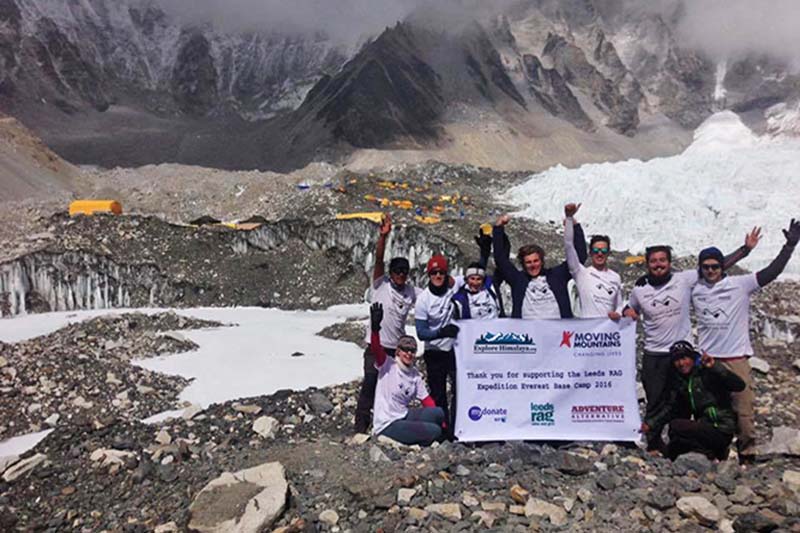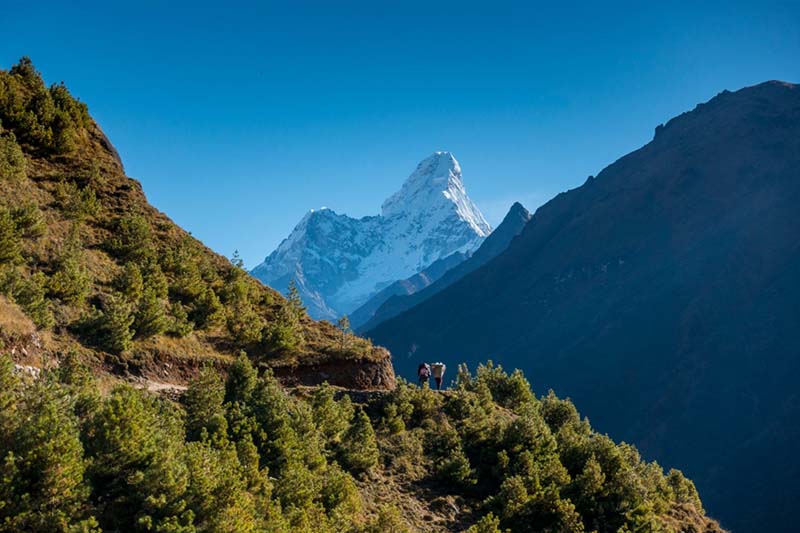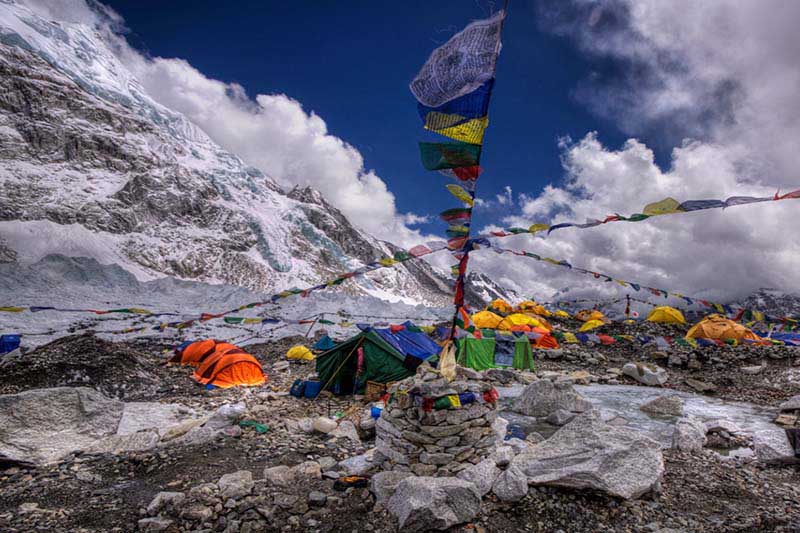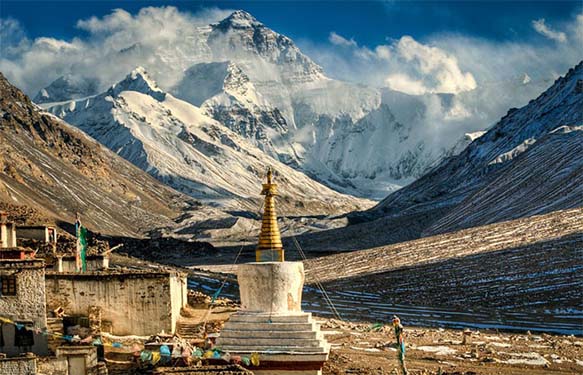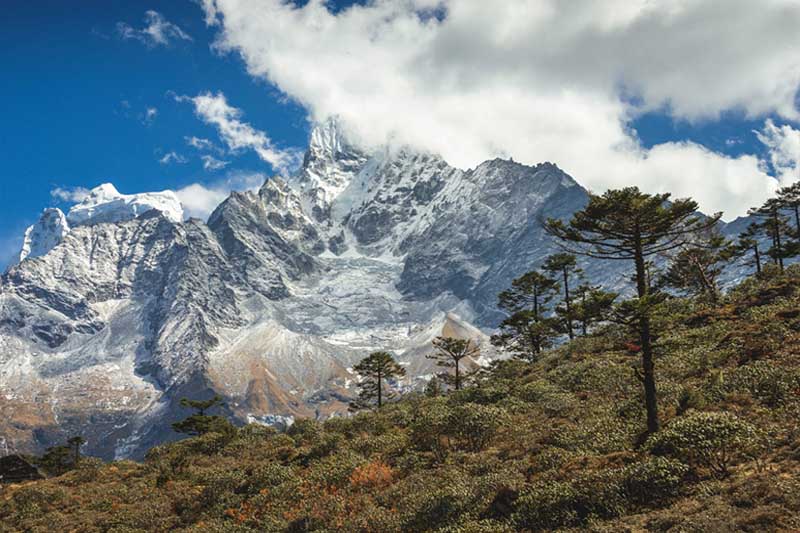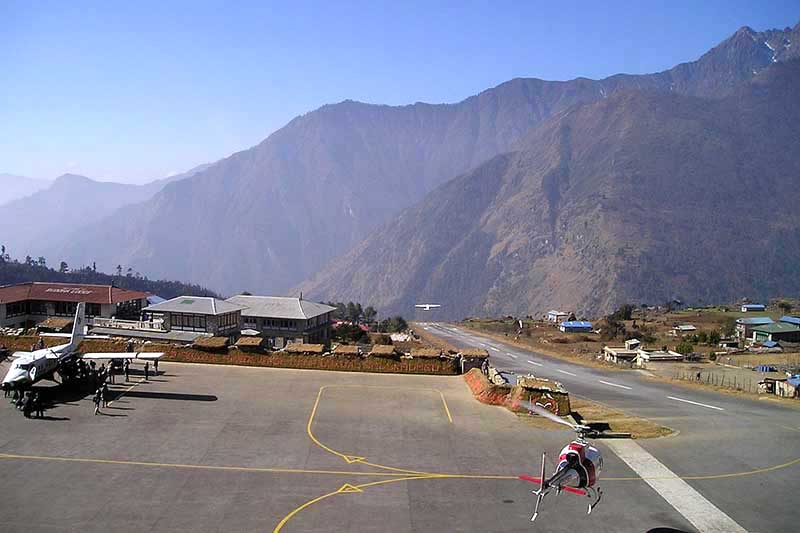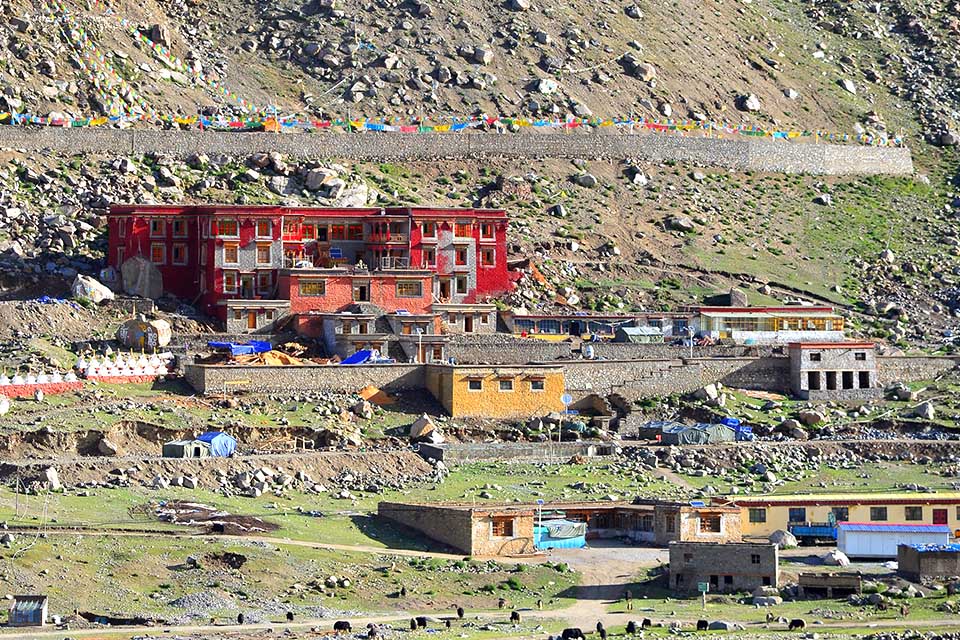 Click on Video for zoom