Goecha La is a high mountain pass in Sikkim state of Indian Himalaya. The world's third highest mountain "Kanchenjunga" lies southeast to goecha La pass. It lies at 4940 mt( 16,207 ft). The biggest reason to do the Goechala trek is The view from the pass. The view is so mesmerizing that anyone can fall in love with the snow covered gigantic Himalayas. Once upon a time when the government authorities first saw the view from Goecha La, striking sunrises and sunsets, they were so dazzled by the view that they decided to feature it on the Rs.100 note. You can witness fifteen beautiful mountain peaks from Dzongri top during this trek. The incredible Goechala trek starts from New Jalpaiguri railway Station. Our Explore Himalaya Representative will pick you from Railway station and takes you to Yuksom (8 hours drive) from where trek starts. is the dream and desire of the adventure lovers throughout the country this trek passes through beautiful landscapes that are filled with exotic flowers and immensely attractive meadows and forests. The Rathong Chu River on the way adds more charm and appeal to the Goecha La trek.
Trekking is for the people who never wind up noticeably fatigued of being in the mountains and like exploring unhindered nature less all potential constraints. What favored place to go trekking over the Himalayas, the most raised mountain goes on the planet? Sikkim, in upper east India, conceals inside itself grounds of radiant greatness and wonderful experiences. Since the state opened itself to tourism, trekking transformed into a favored development to research its fabulous perfection. Voyagers coming here on an outing trip ought to consider going on the Goechala La trek to welcome this covered diamond of India. For a trekker, it is an excursion stacked with endeavors where one can value the adrenaline surge with its problematic trails, thrive in the brilliance of nature and come to know a more prominent measure of Sikkim, the place that is known for peaceful greatness. Arranged in the territory of Sikkim, Goechala is one of the favored objectives for trekkers in India. Trekking in Sikkim, has its relentless captivate with flourishing verdant valleys, delightful manors, bundle and monstrous social occasion of broadly changed vegetation, rich woods and appealing climate that never fails to fascinate the visitors with its alluring gloriousness. Darjeeling is considered as the gateway to Sikkim and from here one can pick the amazing trek, which is a champion among different treks in India. The locale through which the Goechala trek is created is allocated as Kanchenjunga National Park.
INCLUDED

Twin/Triple sharing accommodation in guest house & Camping.
Veg. Meals while on trek.
Trek equipments like Sleeping bag
mattress
tent
kitchen tent
toilet tent.
Trekking Permits.
First aid medical kits and oxygen cylinder.
Qualified & experienced trek Leader
Guide and Support staff.
Transport from New Jalpaiguri to yaksum and return.

NOT INCLUDED

Food during transit.
Insurance.
Mules or porter to carry personal luggage.
Anything not specifically mentioned under the head.
GST 5 %
NOTE:
Region: Sikkim, India
Difficulty: Difficult
Max.Elevation gain: 16,272ft
Temperature: Day(13-18°C) & Night(3-5°C)
Region
Sikkim's point of interest: Goechala trek attracts a lot of tourist to the state. It is impossible to run short of places to visit in Sikkim because this beautiful state has some of the most beautiful location in the world. The state comprises a mix of suburban and rural towns. There are so many places to visit in this enchanting state of Northeast like Gurudongmar, Do-Drul Chorten, Lachung, Pelling, Nathunla pass, Yumthang Valley and the list goes on and on. If you want to experience the beautiful culture of Sikkim then plan a good travel package to subdue in the rich culture of Sikkim.

How to reach
By Train
Deboard at New Jalpaiguri or NJP. It is located in the southwest of Sikkim. You can also choose a route from Kolkata in West Bengal and take a train to NJP. Travelers from New Delhi or Northern part of India, take any train to north east train which directly goes to NJP via Kolkata.
By Flight
Bagdogra is the airport in Sikkim. It is well connected to metros. There are multiple airlines functional on the route. Air India, Spice Jet, Go Air, Indigo, jet Airways and many other airlines are operational from different metro cities. It takes around two hours to reach Sikkim from New Delhi.

Difficulty level
Elevated at 16,200 ft. the standard barometric pressure is 56 kPa (423 mmHg). This means that there is 56% oxygen available at the sea level. The total distance of Goechala trek is 90 Kms which is generally completed in 11 days and 10 nights which makes it physically demanding. Hikers must have a strong frame of mindset to cover such distances. The trek is difficult and needs persistence and good hiking skills.
Things to carry for Goechala trek
Keep your trekking equipment list and include anything you feel that is necessary. The important things to carry while trekking is a backpack, sunglasses, torch, safety matches, water bottle, trekking shoes and camping equipment are essential. Take comfortable clothes for the trek, also carry warm woolen clothes if you are going in winters.
About the trek
The delightful trail of Goechala Trek has a segment of the key components which make the excursion so amazing and huge among the trekking gathering.
• The trekking trail begins from Yuksom town, which is an unmistakable objective in Sikkim for its valid significance. The rich and standard culture of Sikkim can be particularly examined here.
• The second highlighted segment of the trek is seeing fascinating and mesmerizing snow secured zeniths of Kanchenjunga with astounding green scenes and rich meadows at the foothills. The heavenly brilliance of the third most lifted zenith of the world is capturing to the point that one can contribute hours taking a gander at its quality.
• Breath-taking points of view of Mount Pandim, Kabru, Rotang on the Goechala Trek, are both befuddling and beguiling that powers the trekkers to visit the objective again and again
As a rule, there are a couple of renowned spots for trekking in Sikkim, yet Goechala Trek, is one that experiences most prominent predominance since its ensures amazing beautiful gathering and energizing bold climb that can leave the heart pumping, yet stacked with amusing. The scene to Goechala is troublesome and the trekking level is from direct to troublesome. The base age to coordinate the trek is 13years and the most extraordinary age depends upon the physical health and prosperity condition of the individual. Goechala trekking is a strenuous climbing trip and that is the reason it is fitting to carry on well-being climbing test and suitable physical examination before attempting for the pulling in the crusade. Moreover, it must be seen that since high rise trekking is incorporated, less oxygen and the lighter air is normal in this trek especially after Dzongri.
What is the best time for Goechala Trek?
The best time to hit the climbing trails of Goechala is in the late spring season between the long extends from April to June or significantly later in Autumn in the midst of September and October. From June end till begin of September it's more intelligent to avoid the track, as it is the tempest time and torrential slides, tricky lanes, messy tracks are exceptionally general making it troublesome and unsafe to trek. Since considerable snow signifies the winter season, it should in like manner be kept up a key separation from by the trekkers. In January and February, the temperature in Goechala area stays low at - 20C. For the admirers of snow, the vital see the reason for Goechala remains under snow until early May. The temperature in the midst of summer season stays between 15C to 22C and drops around night time between 7C to - 1C. In September, the daytime temperature stays at 10C to 15C and around night time it falls between 5C to - 5C.
INCLUDED

Twin/Triple sharing accommodation in guest house & Camping.
Veg. Meals while on trek.
Trek equipments like Sleeping bag
mattress
tent
kitchen tent
toilet tent.
Trekking Permits.
First aid medical kits and oxygen cylinder.
Qualified & experienced trek Leader
Guide and Support staff.
Transport from New Jalpaiguri to yaksum and return.
NOT INCLUDED

Food during transit.
Insurance.
Mules or porter to carry personal luggage.
Anything not specifically mentioned under the head.
GST 5 %
Click on image for zoom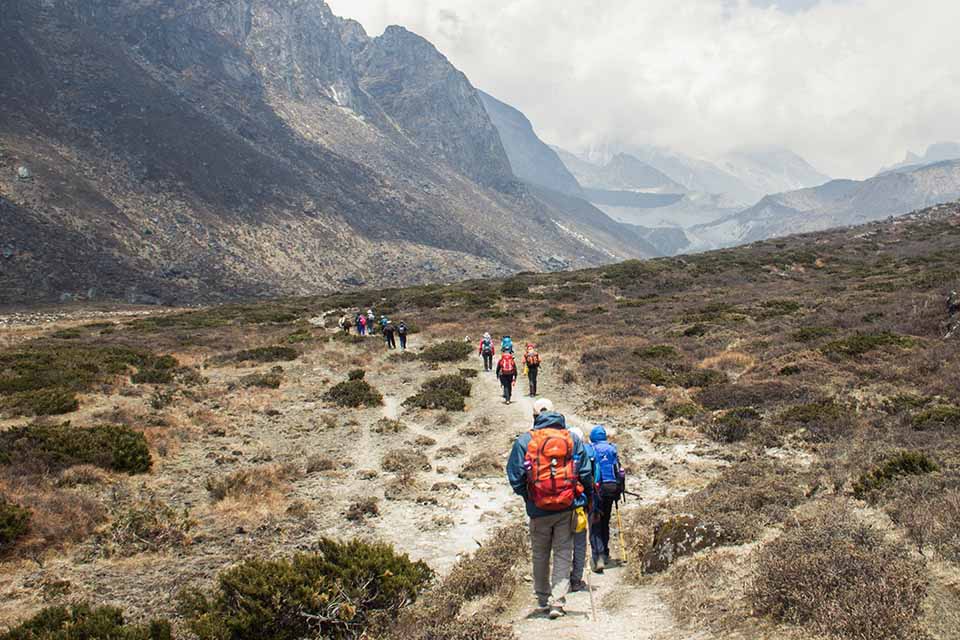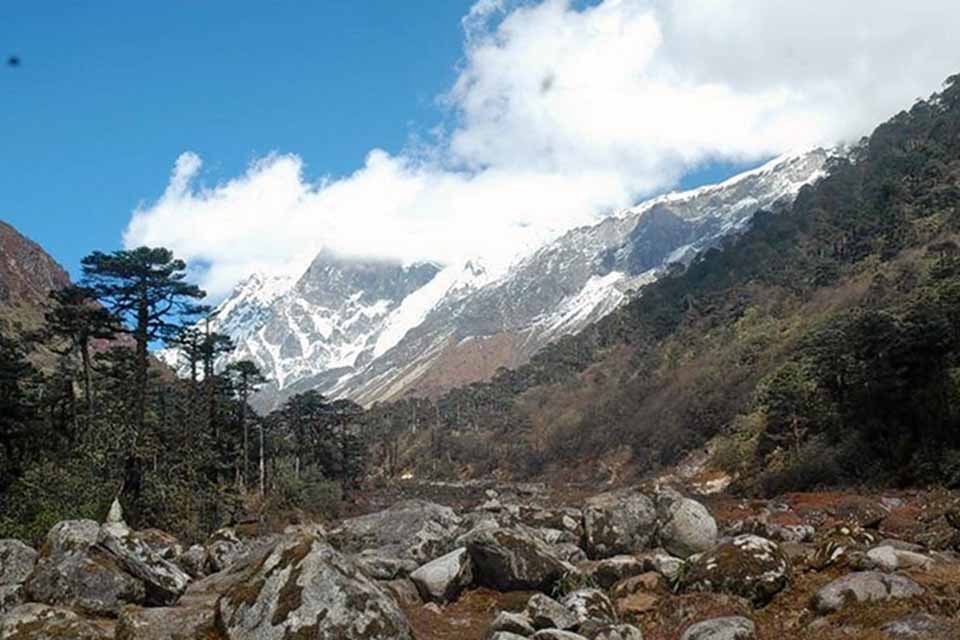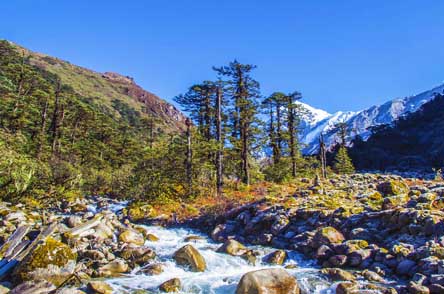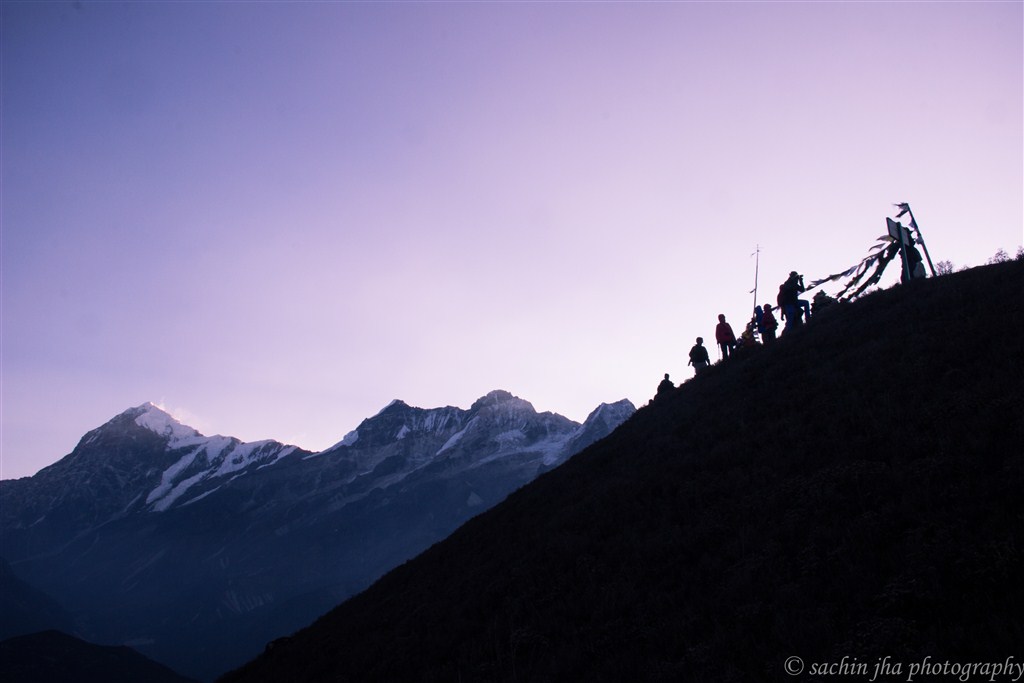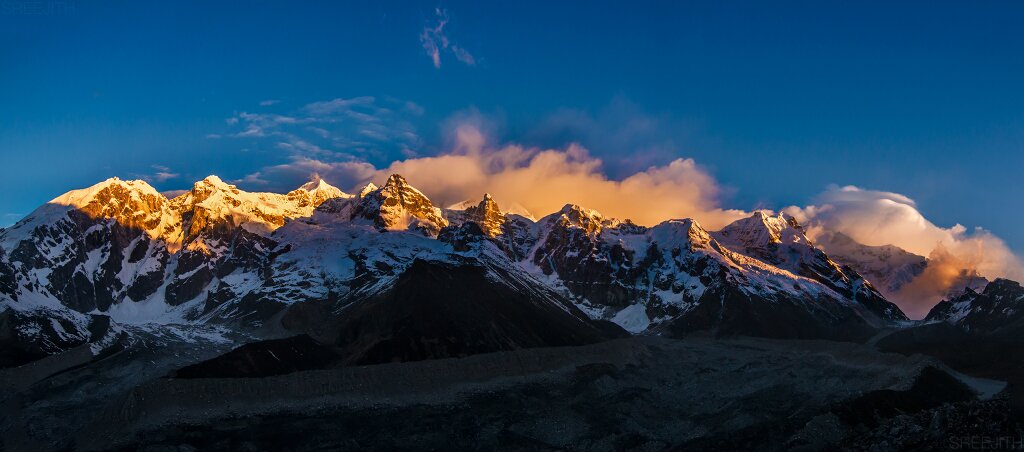 Click on Video for zoom