A cliche of owning a royal enfield and planning a road trip to Leh-Ladakh was a butt of jokes on the internet. It was deemed rather superficial than adventure hunting. Suddenly, everyone was riding to Leh Ladakh. Our social media timelines were full of pictures of our friends sharing pictures of riding from Manali to Ladakh bike trip.

Outpouring numbers of young Indians from New Delhi, Chandigarh, Mumbai, Chennai and Hyderabad ditched their regular holidays to take on the challenge of riding on the beautiful roads of Indian Himalaya. Other than the much-hyped road trips to Ladakh, the bikes were put into use for the errands which didn't quite suit the narrative of being a rider.

So it is natural to be inquisitive about the nature of the trip and what it offers before taking on such journey. Personally, I don't see myself as a rider. I know how to ride a bike, more so a Royal Enfield but that's not what I'm passionate about. It's the natural scenic beauty of hills that musters in my heart to take on a long journey. I don't see a need to buy a bike for taking trips.

I had been longing to go to Ladakh to explore the beautiful barren mountains. I grew up reading about the magnetic hill, seeing the pictures of the expansive Pangong Tso lake, Hemis monastery & Thiksey monastery with tibetan architecture, decorative buddhist flags, culture and the idyllic life of the inhabitants of Leh Ladakh. That's what allured me for a Ladakh bike trip.

I was planning out a solo journey for the summer. Taking cues from a friends for the roadtrip. To make things easier I prepared a checklist of Ladakh trip, jotted down the essentials things required for Leh, searched for things to remember while traveling and took necessary precautions before going there. The list was so big and going out of hand. It was turning into a mess and I had to chuck it off.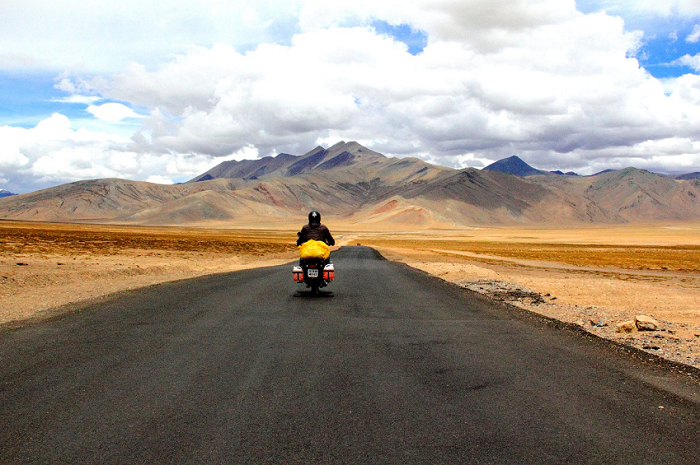 "You don't need to own a bike to be there. Pack your bags and we're going together" I got in touch with an old friend who had similar plans for the summer. My solo journey was not so solo anymore. Mayank booked a Ladakh bike trip package from explorehimalaya.org the leading tour operator in Himalyan region that covers regions in India, Nepal, Tibet and Bhutan.

We boarded a Volvo bus from Delhi and reached Manali on time. This was our first day of the 11 day tour from Manali to ladakh bike trip. We relaxed for the first day, spent time in hotel, prepared ourselves to mount the mighty mountains of Indian Himalaya on our bikes the next day. It was not easy as I had expected it to be. The ride required persistence, the uphill ride took a toll on the riders. Riding on the highest roads of the world has it's own challenges. The limited oxygen in my lungs had me panting. I kept myself hydrated to continue on my journey.

As we travelled on, the changing colours of the congenial mountain ranges made it clear that we were near our destination. The road were a breadth less and I was breathless. The views were exquisite. Cruising over the Jispa village in Lahaul, Himachal Pradesh was delightful. We covered multifarious village of Sarachu in our adventurous trip to reach here.

We had an amazing journey. I can't thank mayank enough for inviting me to explore Leh with him. Our road trip planning was spot on with the courtesy of a hardworking management of our tour operators.

If you tell your friend to go on a Ladakh bike trip, it may sound cliched at first but trust me it is not. Riding day in and day out can be excruciating but with the congeniality of Tso kar lake, nubra valley and KharudungLa pass you will find yourself drowning in the immense beauty of Indian Himalaya.