Generally the things that comes to our mind when we hear about a road trip is fun, friends and memories. Driving in Himalaya is not always about scenic mountains and fresh breeze. A road trip to Himalayan road means driving on most dangerous roads of the world. You might want to check out the 5 most dangerous roads in Himalaya that would make the passengers tremble in fear. However that is not all there is to a road trip. While road trips can be a great source of clearing your mind from the clutter of routine. It can also unfold some of the most frightening sights that we can encounter. Here we are going to enlist the most dangerous and deadliest roads of Indian Himalaya that will even grip fear in the hearts of experienced drivers. Take deep breaths and read further to know about
The 5 most dangerous roads in Himalaya.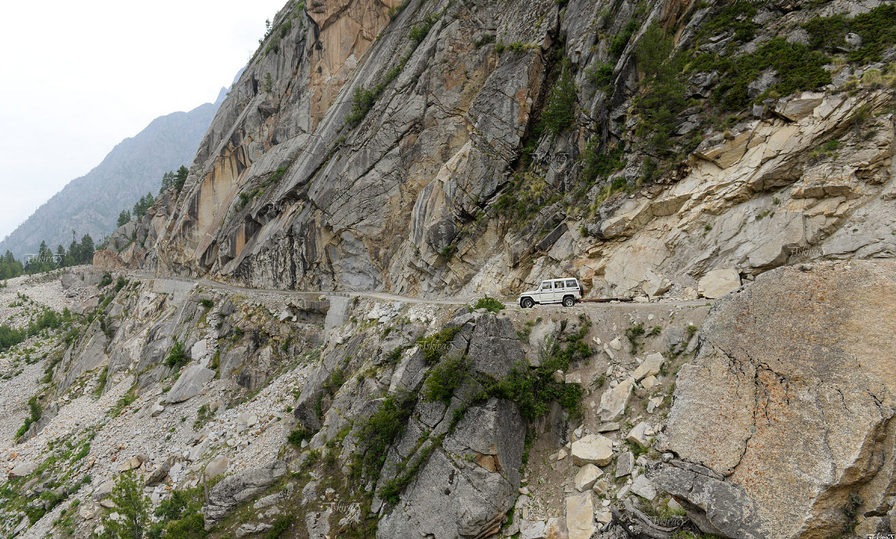 Kinnaur Road

Location: Himachal Pradesh, India.
Elevation: 4000 meters

Kinnaur is one of the smallest districts in India by population. Driving on the way to Kinnaur, I almost had my heart in my mouth. A dry and cold area, and its quietness often breaking peace with the noise of honking trucks. I had a chance to witness the scenic views and beautiful villages. It came at an expense of trembling in fear. When the buses crossed the narrow roads inching closer. The drivers almost nonchalant about the poorly built road crossed past each other without make a hubub.

Most of the villages of Kinnaur lie at a high altitude, some close to 4000m. The roads in Kinnaur are built by cutting the hills in such a manner that at some places, these overhangs are left. Not only do they look stupendous, but they look like the naturally built tunnels. You can feel the cool temperature passing down from these overhangs.. At many places, especially at the infamous Taranda 'dhank' (cliff) it is literally carved into the perpendicular cliffs. So be prepared to handle for the dangerous road.

Zoji La Pass

Location: Jammu & Kashmir, India.
Elevation: 3528 meters

The second highest pass after Fotu La on the Srinagar-Leh National Highway. Zojila pass is a 9 kms road from Sonmarg that is serves a vital link between vital link between Srinagar and Ladakh Valley. Driving on this trail, you must have utmost confidence in your vehicle and your driving skills. Located on the Indian National Highway 1D between Srinagar and Leh.. It runs at an elevation of approximately 3,528 metres (11,575 ft). Zojilas pass brings a lot of troubled memories. Traveling on this road during snowfall was a moment of great displeasure. When there was a risk of lives. Somehow we managed to cross it with the help of the authorities. Due to heavy snowfall in the winter, Zoji la pass remains shut for traffic for around six months in a year. The Beacon Force unit of the BRO (Border roads organization) is responsible for the maintenance of the road during Winter.

Jalori Pass

Location: Kullu District, Himachal Pradesh, India.
Elevation: 3291.84 meters
At an elevation of 10,800 ft (3.120m) above the sea level, situated in the Kullu district of Himachal Pradesh, Jalori pass is the nearest mountain pass from Delhi, approximately 600 km away, and features on every daredevil's adventure map.
Jalori pass remains closed in peak on winter only. So in months of December, January and February you need to check before you can travel on this road. The road is open around second week of March every year and closes mid december, depending on the the level of snow. The road in dampened condition makes it much more tough to drive, it requires strong nerves to navigate through it.
At the top of the Jaluri pass there are bunch of restaurants that and a Mahakali temple known as Jalori Mata, visited by thousands of devotees and explorers. Visit this temple and seek blessings of mother kali to overcome such fears. It really completes a circle of tasting a thunder within oneself.

Killar to Kishtwar
Location: Himachal pradesh to Jammu & Kashmir
Elevation: 3400 - 4800 meters
From one of the most remote areas to the dense forests of deodar, pine and fir. The beautiful journey from Killar in Pangi Valley, Himachal Pradesh to Kishtwar, Jammu & Kashmir is full of surprises and thrills. Make sure you get your vehicle and yourself well-prepared before driving this road. The surface of the road is gravel, pebbles and sand and it's carved into the side of a cliff. The one lane path has no guard railing which puts a question mark on the safety of the riders. and the overhanging cliff is so low that the cars barely fit, with over a 2,000ft drop.
This road is part of the National Highway 26. It's incredibly disorienting to look below. This road is not for the faint-hearted. People often feel dizzy and nauseous when they drive through this road. Petrifying high mountain trail, with a distance of 234 km, located at the eastern ends of the Kishtwar District of the Jammu region in Jammu and Kashmir, India requires high level of driving expertise and skills to manage the treacherous terrain of the road.


National Highway 22
Location: Harayana to Himachal Pradesh.
Elevation: 4400 meters

You need a lot of courage and self confidence to sit behind the wheel and drive on National Highway 22. It is one of the world's deadliest and dangerous roads in Himalaya. Lifeline of Shimla city. The road is also known as the Old Hindustan Tibet Road. The road is of both strategic and economic importance for India. It connects Shimla with Rampur and Kinnaur. National highway 22 has perilous cliffs, poorly-constructed bridges and tunnels, heavy traffic and very bad conditions. It has a poor maintenance and hazardous driving conditions all through the year. This is why it has not been able to attract tourism. However the daredevils who want to try and experience danger of roads on a high altitude choose to drive here.
National Highway 22 is 459 km (285 mi) long. The road starts starts city in Ambala district in the state of Haryana. Avalanches, heavy snowfalls and landslides are a common occurrence here. It holds a reputation of being scariest road in Himalaya because of unpredictable snowstorms and blizzards, and driving under these conditions, can be life threatening.