Yes, Chadar Trek is difficult due to the constant sub-zero temperatures and tough terrain. It is not like any other easy trek which you do on your weekends but most of the stories about difficulties of Chadar trek are folklore. you need to physically and mentally prepare yourself for this Trek. With Proper preparation yes, a first-timers can also do Chadar Trek .
1) Your Mind Set First : So You are planning to trek on this Frozen zanskar river. From our past travel experience in Himalaya you have to train your mind first for the subzero level of temperature. During some nights Temperature here goes down to -30 degree that means you have to be calm and prepared. For locals in the zanskar valley this route (Chader trek) is used as the single option to travel and commute with Leh India that means life also exist there as well.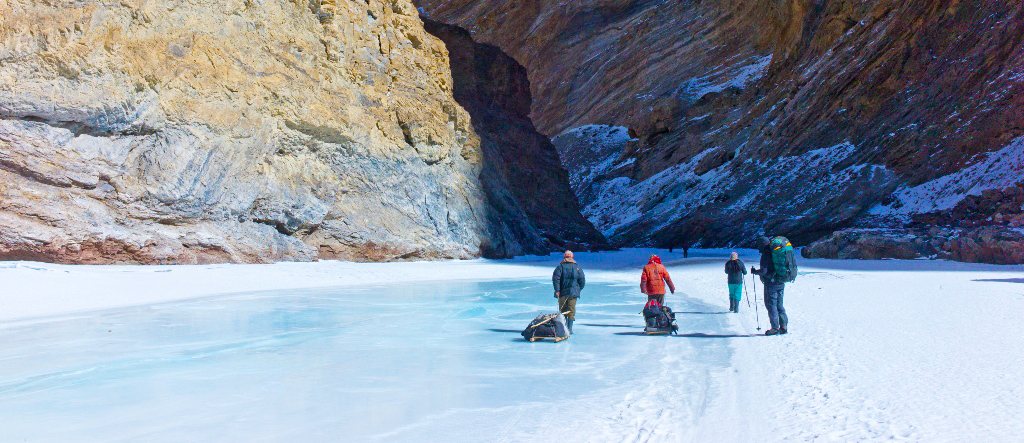 2) Your Fitness : Your fitness should be nonnegotiable. You need not have to be in 6 pack abs or marathon runner to do Chadar trek but you have to be on your feet for a long time. which can be achieved just by Walking 7-10 kms daily or riding cycle 10-15 km. Stay on your feet during the day. Do regular aerobic exercises, not weight training. Strengthen your leg, back, neck and shoulder muscles.
3) Dress like an onion: During Chadar Trek dress in layers. This is especially important when hiking in colder weather, Having a variety of insulating clothing will help you regulate your body temperature and stay comfortable.
4) Walking on Frozen River: Wear shoes and boots with good traction. You are expected to walk 12 kms average daily, and walking on ice is different from our regular walking. Walk at a slower pace, Walk like a penguin, keep your hands out of your pockets. Keep your knees loose. Extend arms to the side to keep your balance. Bend slightly and walk flat-footed with your center of gravity directly over the feet as much as possible.

5) Slipping and falling: Fall like a pro. If you're about to go down lean forward so the back of your head and spine don't hit the ice. Try to fall on your thigh, hip and shoulder, not on your easily broken arms, knees, wrists or spine. And hard as it may be, relax your muscles as you fall. You'll be less likely to get hurt.
6) Keep Your electronics warm: Batteries drain easily in the cold Remember to keep your elctronic in your innermost pockets. If you leave them in the rucksack, they'll surely be dead by the end of the day.
7) Things to bring: Thermals: Thermals are an absolutely essential gear for the Chadar trek. Buy Synthetic Thermals only as they are light weight and dries quickly. T-Shirt: Try to wear synthetic full sleeves T-shirts, cotton ones avoid as much as possible. Best way to beat the cold is to layer up. Fleece Jacket: This can be third layer of clothing, above your Tshirt, Not a must as you can wear multiple T-shirts and that should take care of it. Track Pants: you can buy good quality track pants from Leh market. There are two qualities available, you need to take the thickest variety, which has inner fur/fleece lining. Gloves: wear a simple fleece liner inside the gloves. This will help you for clicking photos by taking off the bulky gloves and still not exposing the hand to cold. Head wear/Balaclava: To protect face, nose and ears. you can buy it at very low price in Leh. Socks: Take atleast 9 pairs of military socks. No need to buy fancy socks. Shoes: Buy gum boots from local market. Always take a size bigger than your normal size, as you may be wearing two or three layers of socks. Day Pack: Day pack are Used for carrying water bootle, Camera, Towel, Extra pair of socks or gloves, Pain relief spray, choclates, snacks. Warmee: These are gel based chemical heating pads that can be used to provide warmth to any affected section of the body. The pads can attain a temperature of 50°C for about 8 hours. Head Torch: It is good to have a head torch, as it really helps while walking at the camp site in the evening or night. Thermally Insulated Bottle: Helpful to carry hot water during the trek. Plastic/Garbage Bags & Rubber Bands: Plastic bags can be used over the socks to prevent from getting wet during the water crossings. Use rubber bands to secure them in place. Medical Kit: Pain Killer tablets, Pain killer spray, Tablets for Loose motions, Cold & Cough medicine, Band Aid. Daily Essential : Toileteries, Toothpaste, Brush, Tongue cleaner, Cold Cream/Moisturiser, Deodorant, Vaseline, Paper Soap, Towel, camera etc. Sleeping bags: we provide two sleeping bags to every explorer. If you're carrying your own sleeping bag, ensure that it has a temperature rating of -25 degree Celsius or less.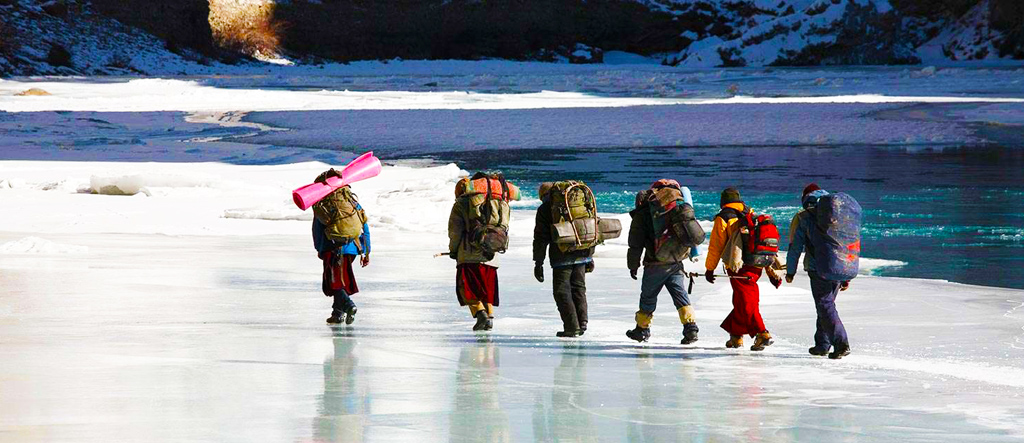 8) Things not to bring: Micro Spikes/crampones: avoid micro Spikes. It breaks the Chadar formation. Metallic ornament: Please don't wear any metallic ornaments touching your skin, while you are trekking, else you may get a frost bite.
9) A day for buying stuff at Leh: Leh has the best warm stuff. If you need to buy anything warm, buy it there instead of the city malls.
10) Leave no mark: The Zanskar region is one of the unspoilt eco systems in Himalaya. with rising number of trekkers and human activity It faces problem every year.It is entirely up to each one of us to keep the valley clean. Do not use soaps and shampoos in waterfalls as it contaminates them. Moreover, the local inhabitants use this water for drinking purpose; thus you should keep it clean. Do not litter on the trail or on the campsite. If you spot any wrapper strewn around, pick it up and drop it in the trash bins at the campsite.