To do way from typical holiday destinations of Shimla, Mussorie, Naniital, Dalhousie is a quite a challenge in itself. As they say, old habits die hard. A leisure holiday sumps with little to no excitement. To change that we take to a different route of adventures. Cycling on the highest motorable road of the world in Khardungala, Leh is one sure shot way to break the monotony of life. Exploring the beauty of mountains on a cycle is an altogether different experience. The cycling expeditions of India from Manali to Leh is one of the best cycling trails in the Indian Himalaya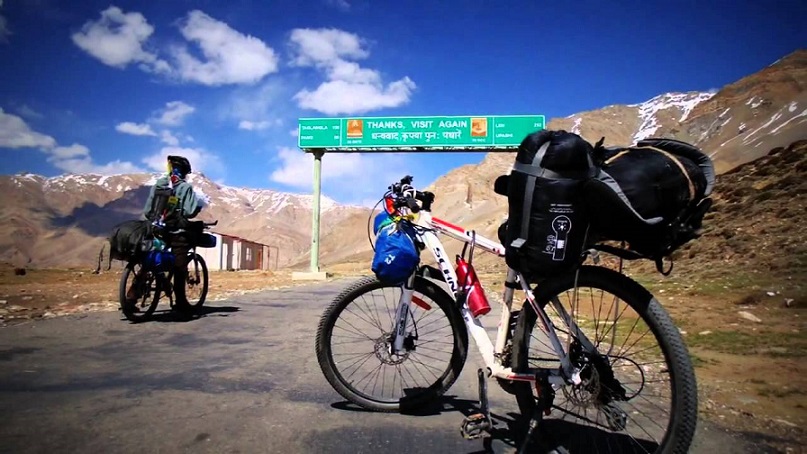 You don't need to be a part of a cycling Club of India that charge an expensive membership fee to go on a cycling tour Manali to Leh. There are well-planned packages available on Explore Himalaya that offers an experience of a lifetime without burning a hole in our pocket with any kind of annual membership fee that a cycling club charges. You can get bicycles on rent at a cheap price of about 600-800 INR. It is advisable to book the cycles in advance if you are not bringing your own bikes on the trip. It is better to be familiar with the kind of bicycle you are riding to ensure a safe and smooth trip. If you are new to mountain biking, don't be hesitant to communicate with the experienced riders. They will help you navigate and ride smoothly.
A well-rounded journey of downhill and uphill terrain. The combination of off roading and cycling on cheery well-paved roads. The Himalayan roads mandate our resilience. This is where the fitness freaks meet the adventure junkies. There are support vans on the way for the people who find it difficult to ride through the uphill ride. Manali to Leh cycling trip offers us an opportunity to grow, meet new people and experience the beautiful lakes, rivers, waterfalls of the Himalayan region. This trip entails exploring Lahaul region in Himachal Pradesh to Buddhist kingdom of Ladakh
If you have been riding in the busy streets of your city. This journey would definitely cheer you up. Free from the pollution, traffic congestion of narrow lanes. Break yourself free in the Himalayan ranges to explore the charm of Indian Himalaya,
The beautiful textures of the landscape, pastoral villages inhabited by the Ladakhi people will entice you to know more about the culture and history of the place. There's so much to explore on this journey that it overwhelms you to a point beyond your control. Talking to people about their lifestyle and daily occupancy, you can tap into the slow pace of life in the agrarian life of Leh-Ladakh. Visiting Buddhist monasteries is another wonderful experience of going on a bike tour Manali to Leh. Meditate and seek blessings of Buddha to give you strength to face every challenge in life with equanimity. It is a beautiful feeling of being in the quietude of the self.So ask yourself this, if you have what it takes to complete the cycle journey in the mountains. Don't follow the crowd. Book your trip with Explore Himalaya and hop on to the most exciting cycle ride in Leh-Ladakh. Getting butterflies in your stomach is natural when you think of a 490 km journey on cycle in mountains. I remember when I completed this cycling adventure in India, I couldn't hold myself back from bursting into tears. This expedition taught me a lot of things and helped me overcome my mental blocks. When I look back on Manali to Leh cycling tour of India, I am humbled by how much I've grown.
To prepare yourself for a cycle ride from Manali to Leh. Prepare a list of mountain bike gear and accessories that you must have with yourself. Carry a pump, couple of inner tubes and keep a repair kit in handy. Keep a light kit bag with all the essential gears and you strap on to get the journey started. You must always know how to fix a puncture, changing an inner tube. Naturally, the bike guide will assist you with any basic repairs, but due to the often remote nature of our trip, having the basic knowledge of repair can save time and energy.
What I find beautiful about mountain biking is that it is eco-friendly. Lately, it has been used by many great riders to issue a message of adopting green technology. While trekking in Himalaya and traveling is what we endorse for a prosperous, it is our duty to keep the mountains clean, green and safe from commercial exploitation. We must nurture, preserve and contribute in every way to harbour the natural beauty of Himalayas.