Greetings to Explorers.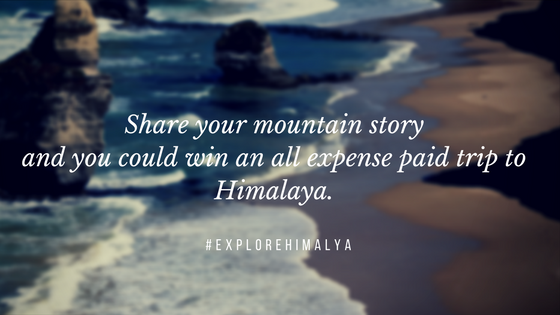 Explore Himalaya is sponsoring an all-expenses-paid trip to travel bloggers who are passionate about exploring the beautiful destinations of Himalayas. If you have the creative spark of writing highly engaging articles and travelogues then you're definitely going places with us!
All you need to do is share your mountain story with us. Tell us how you spent your holidays. Mention details on - tourist attractions, the unique identity of the place, travel tips, challenges, what to look out for before you go, personal thoughts etc to make the story more appealing. Allow the readers to explore the tour through your mind. Keep the content unique and crisp. Use original pictures of your trip to make your post look more attractive. The word limit is 1500-2000 words.
Ditch the boring contests online in India that offer company hampers or goody bags. Don't settle for anything less than an experience of a life time. Here, in #ExploreHimalaya contest we are giving you just that. Out of all the enteries, 3 winners would be selected at the end of the contest and the winners would be announced on Twitter. So what are you waiting for? Take out your travel diaries and start scribbling about the mountain story. #ExploreHimalaya contest is giving a chance to travel enthusiasts, hikers, travel bloggers get a chance to travel with us absolutely free to some of the most beautiful hilltops of Himalayan regions. Submit your story now at info@explorehimalaya.org
Getting started
Submit your mountain story (related to Himalaya) to info@explorehimalaya.org with Subject: My mountain story #ExploreHimalaya
Wait for your story to get published on explorehimalaya.org/blogs
Share your story link on Twitter, Instagram and Facebook with contest hashtag

#ExploreHimalaya

to maximise the engagement of your travel story.
Invite people to comment on your story to increase your chance of winning.
Terms and conditions of #ExploreHimalaya Bloggers Contest
Participation in this contest is voluntary.
Number of Entries: Only one entry permitted per person. If you enter more than once we reserve the right to void all of your entries.
The travel content should not be plagiarised. The pictures used in the blog should not be copied from the Internet. Originality is important.
The contest begins on 30th June and the last day of submission of blog is 12th July 12:00 noon
The Contest is open to citizens of India, aged 18 years and above, but excludes employees and the family members of the Organisers, its associate companies, its advertising and promotional agencies or anyone else professionally connected with the firm.
Explorehimalaya.org reserves the right to disqualify any Participant(s) or Winner(s) from participating in the contest. If the Participants/Winners are found to be in breach of any provisions of these Terms. The decision of explorehimalaya.org in this regard shall be final and binding upon the Participant(s)/Winner(s) and the Participant(s)/ Winner(s) shall not at any time challenge and/or dispute this decision of the company. The decision of company is final and irrevocable.
Winner selection: We will select three blog entries. The winners would get to travel with us for free for a trek in 2017-2018.
Redeeming Prizes: The winners will be contacted by explorehimalaya.org through Emails and the dates and guidelines of the trips would be allotted within a month.
General Conditions: No purchase necessary to enter the #ExploreHimalaya contest. Entry implies acceptance of these terms and conditions.
This contest is sponsored by Fab Info Media